Source: Drago Prvulovic/Øresundsbro Konsortie
The thrust of my current research agenda explores the intersections between screened fiction (specifically dramatic television series), geopolitics, and (trans)national identities. My core project is
Geopolitics, Northern Europe, and Nordic Noir: What Television Series Tell Us About World Politics
(Routledge, 2020). This text builds on my previous work on: 1) developing a typology of geopolitical television (
Geopolitics
); 2) the role of
The Bridge
and its first two adaptations in premediating geopolitical developments in Sweden/Denmark, U.S./Mexico, and Great Britain/France (
Social & Cultural Geography
); and 3) my analysis of the Finnish-Russian border zone in the series
Bordertown
(
TV/Series
). Ancillary projects include a
visiting researcher
position at Malmö University, a large-scale collaboration with colleagues at Aarhus University, University of Leeds, and University of Bologna on screening the so-called 'Refugee Crisis' and the impact of televisual interventions on social and civic cohesion across Europe, and several book chapters on crime drama, neoliberalism, and transborder issues, including one on
adapting Nordic noir
in the center of global neoliberalism, i.e. London, via the series
Marcella
and another on the
(geo)politics of the dead body
in Arctic television drama. Additionally, I contributed two articles to a
special issue of Nordicom Review
on geopolitics and Nordic noir (which I also co-edited); in the first, I examine the depiction of (geo)political landscapes in the Norwegian series
Occupied
and
Nobel
, while in the second Pei-Sze Chow, Anne Marit Waade, and I interrogate the changing nature of Nordic noir when transplanted outside the region (specifically
The Bridge
's adaptation in Malaysia-Singapore).
I also have a recently-published article in
Global Society
(co-authored with Hanne Bruun) on how Danish comedian Jonatan Spang's satirical rendering of
The Bridge
's dynamics is being used as a tool for interrogating differences in political culture between Danes and Swedes, specifically those related to gender, ethnicity, migration, and free speech. Tangentially, this research also informs my co-authored chapters '
Geysers, Game of Thrones, and Geopolitics: Iceland as a Zone of Strategic Tourism
' (with Simon Halink), which will appear in
Tourism Geopolitics: Assemblages of Infrastructure, Affect, and Imagination
, eds. Matilde Cordoba Azcarate, Mary Mostafanezhad and Roger Norum (University of Arizona Press) and '
Screening Arctic Landscapes in Nordic Television Drama: Anthropocenic Imaginaries, Ecological Crises, National Identities
' (with Irina Souch and Anne Marit Waade) in
Disturbed Ecologies: Geopolitics and the Northern Landscape in the Era of Environmental Crisis
, eds. Chris Goldie, Darcy White and Julia Peck (Transcript Verlag).

Geopolitics on the 'Other Side': Countepart's
Imaginary of a World System after the Virus
I am happy to report that my article on
Counterpart
's second-world order as a harbinger of a (post-)Covid geopolitical system has now been published in
Geopolitics
.
Drawing on analytic frameworks from feminist IR's interrogation of fear in geopolitics and approaches rooted in the popular culture-world politics (PCWP) continuum, this article examines the ways in which the television series
Counterpart
(STARZ, 2017-2019) presaged a world defined by a novel form of ideological xenophobia and apolitical anthropophobia at the global level. As a premier example of immersive geopolitical television, the series examines diplomacy, biopolitics, and everyday attitudes to international relations via a screened imaginary that very much resembles our so-called 'real world' in the midst of the COVID-19 pandemic, while also screening the likely reality to come. As I argue, our 'new normal' parallels many of the 'other-worldly' geopolitical codes and visions presented in
Counterpart
, thus explaining renewed interest in the series since early 2020. Focusing on the policing of bodies and borders in the time of COVID-19, I examine the series' discursive and visual world-building against various 'real-world' governmental and societal responses to the 'virus'. This is done through the lens of a new, global geopolitical thinking that is founded in the fear of (other) humans who are/might be (un)knowing carriers of the virus. Using
Counterpart
as tool to think with, I attempt to bind geopolitics – an imagined/imaginary system of power relations based on
limits
and
control
– to anxieties triggered by the wide-ranging and uncontrollable flows of the novel coronavirus.

Latvia's Labietis: Modern Craft Brewing Across the Pagan-Christian Threshold
I recently submitted my draft chapter on the Labietis brewery in Riga, Latvia for Medieval Beer Culture and Modern Beer Medievalisms, eds. Noelle Phillips, Rosemary O'Neill, and John A. Geck (Palgrave). My work critically examines Labietis as a geopolitically-inclined project that spans Latvia's pagan-Christian threshold through memory work that takes form in material culture (i.e. beer). Labietis is a fast-growing craft brewery steeped in a 1,200-year-old tradition that venerates Latvia's pagan past, but also recognises the contributions of medieval monks to northern European brewing practices. Drawing on interviews with Labietis' owner Reinis Pļaviņš, promotional material (beer descriptions, web site content, etc.), and my own visits to the tap room, this chapter explores the ways in which Latvia's medieval history manifests in the medium of beer and brewing, including via imagery, iconography, nomenclature, ingredients, and everyday practices. In addition to a close analysis of Labietis beer and brewery, this chapter also provides a brief history of the eastern Baltic in the Middle Ages, as well as an analysis of the use of medievalism and the pre-Christian faith of Dievturība in the making of the modern nation-state of Latvia.

Popular Geopolitics, Strategic Narratives, and Soft Power in Viking (2016) and Guardians (2017)
Stemming from my participation in Leeds' University-led project 'Soft Power, Cinema and the BRICs', I recently contributed a chapter to Cinema and Soft Power: Configuring the National and Transnational in Geo-Politics, eds. Rachel Dwyer and Stephanie Dennison (University of Edinburgh Press). Drawing on the notion of strategic narratives in foreign policy, this chapter focuses on two contemporary big-budget Russian films, Viking (2016) and Guardians (2017), with the aim of interrogating filmic fantasy's capacity to buttress Russian 'soft power'. I am particularly interested in these films' respective roles as influencers of geopolitical codes and geographical imagination, both at home and abroad. My purpose is to examine the ways in which multidirectional, geopolitically-informed mediascapes shape the 'West' and Russia's respective Fremdbilder of one another, as well as prefigure changes in geopolitical attitudes, cultures and identities. By examining the (geo)visual representations and (geo)politically pregnant content of these two films in relation to their 'Hollywood'-based counterparts, this study seeks to explore the ways in which soft power flows can be more effectively employed using pre-established modalities of popular cultural persuasion.

Extending the Katechon:
Religio-Civilizational Vectors in Russia's Intervention in the Levant
In the mid-19th century, tsarist Russia went to war with an international coalition of Western countries and the Ottoman Empire over the rights of Christian minorities in the Holy Land. A century-and-a-half later, the Russian Federation launched a military campaign to support the Assad regime in Syria, pitting Moscow against the U.S., France, and other powers in the region. In both instances, the Russian state advocated a messianic mission based on "protecting" imperiled peoples and preserving civilization from chaos. Using Engström's work on
katechon
(κατέχων), this paper examines the visual and discursive geopolitics of Russia's current engagement in the Levant through the lens of "withholding chaos." My case study, which is part of the
Striking from the Margins
project based at Central European University, interrogates the visual securitization of the holy city of Palmyra and the subsequent concert held there by the Russian military in May 2016. With a focus on the current splintering of the Levant along sectarian and ethnic lines, I examine the moralistic and deontological frameworks that Russia employs in its use of military force, while also reflecting on historical parallels in the country's past involvement in the Eastern Mediterranean. By framing intervention in religio-civilizational terms, I argue that Russia is using the Levant as a key plank in the resumption of its long-held status as the global defender of traditional values, true religion, and genuine culture.
'Walking in (a) Bordertown: Sorjonen, Liminality, and the Spatial Imaginary of Lappeenranta', TV/Series - Special Issue on Series and Space - No. 18 (2020)

'"Radio Free Sweden": Satire, National Identity, and the Un-PC (Geo)Politics of Jonatan Spang', (with Hanne Bruun), Global Society, 35(1), 2021, pp. 84-101.

'Landscape, Geopolitics, and National Identity in the Norwegian Thrillers Occupied and Nobel', Nordicom Review, 41 (s1), 2020, pp. 63–83

'Geopolitical Television Drama Within and Beyond the Nordic Region', (with Pei-Sze Chow & Anne Marit Waade), Nordicom Review, 41 (s1), 2020, pp. 11-27

'Televisual Diplomacy: I am the Ambassador and Danish Nation Branding at Home and Abroad', (with Joel Vessels), Politics, 39(4), 2019, pp. 430-447

'Pissing On the Past: The Highland Clearances, Effigial Resistance and the Everyday Politics of the Urinal', (with Rhys Crilley), Millennium: Journal of International Studies, 47(3), 2019, pp. 444-469

'Geopolitical Television at the (B)order: Liminality, Global Politics, and World-Building in The Bridge', Social & Cultural Geography, 20(7), 2019, pp. 981-1003

'Small Screen IR: A Tentative Typology of Geopolitical Television', Geopolitics, 24(3), 2019, pp. 691-727

'(Profitable) Imaginaries of Black Power: The Popular and Political Geographies of Black Panther', Political Geography, 69, 2019, pp. 139-149

Geopolitics, Northern Europe, and Nordic Noir: What Television Series Tell Us About World Politics. Routledge (2020).

Popular Geopolitics and Nation Branding in the Post-Soviet Realm. Routledge (2020, paperback; 2017 cloth).

"An original and important contribution to the study of visual culture and its implications on nationalism, geopolitics, and the framing of broader geographical imaginations...[and] an insightful overview of the emergent histories of the spaces and people of the post-Soviet Union" ~ Social & Cultural Geography

Popular Geopolitics: Plotting an Evolving Interdiscipline. Routledge (2020 paperback; 2018 cloth).

"Robert A. Saunders and Vlad Strukov's edited collection works to bring popular culture and world politics scholarship together in a cohesive body of work through a careful tracing of both fields as logically converging into an interdisciplinary field capable of incorporating new and evolving intellectual currents." ~ The AAG Review of Books

Historical Dictionary of the Russian Federation, 2nd Ed. Scarecrow Press (2019); first ed. co-authored with Vlad Strukov (2010).

"The Historical Dictionary of the Russian Federation fills a gap in the truest sense of the word." ~ Reference Reviews

Ethnopolitics in Cyberspace: The Internet, Minority Nationalism, and the Web of Identity. Lexington Books (2016 paperback; 2010 cloth).

"A welcome contribution [that] deserves the attention of a wide public, as it is a worthwhile contribution to this relatively new field." ~ Ethnic and Racial Studies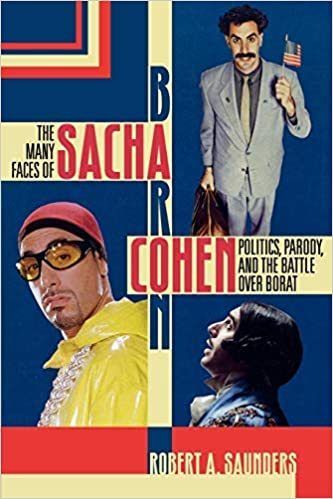 The Many Faces of Sacha Baron Cohen: Politics, Parody, and the Battle over Borat. Lexington Books (2009 paperback; 2008 cloth).

"A thoroughly detailed exploration of Cohen's explosive comedy. A smart read deserving of a lot of 'respek.'" ~ Michael Musto